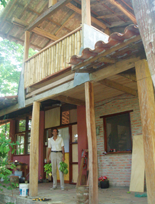 Do you love nature, do you like to get up to the singing of birds, to the sounds of a subtropical rainforest, and breath its fresh air? Then you are right here. Hostal Bosque de José is situated near Buena Vista, a 2 hours drive from Santa Cruz (look at the map). Here you will find a cosy little guesthouse with four bedrooms in the middle of a subtropical rainforest. You can discover the the whole variety of nature right in front of your main door. The sounds of the forest will accompany you while eating, taking a rest in the hammock outside and even in your dreams.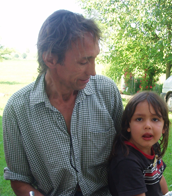 Although 17° South at 400m above sea-level the climate is nice and mild. You can enjoy Sepp's expert guiding or stroll around yourself on the little footpathes throughout the forest to discover things. Or just sit on the veranda, soak up the forest athmosphere and listen to frogs and cicadas. Butterflies, bats and birds can be just as easily watched as arbillas(kind if squirrels) and different species of monkeys that often come right up to the front door. If you are patient enough you might be lucky to see a sloth, wild pigs and deer, or a wild cat. You can find many orchids and other colourful flowers.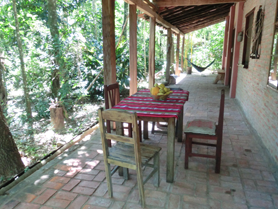 While walking around the forest you'll also discover many exotic cultivated plants spread between the forest vegetation. So you can enjoy at José' s house self-picked bananas, sun-ripened mangos, ginger, curcuma and cocoa, as well as self- harvested and home-roasted coffee – everything organic of course. José is an experienced guide with a lot of enthusiasm for the forest and its inhabitants. For sure you will soon be infected by his love and care for the woods.
The guesthouse is a good place to start tours in the surroundings like to the nearby Amboró National Park, which is only 30km away. Also Sepp can give advise to you for your further travelling in Bolivia such as safety, local habits and how not to get sick.